Recycled Plastic Granulating Machine automatic wood pellet machine
Descripción del producto
Recycled Plastic Granulating Machine automatic wood pellet machine
1.Parameter of wood pellet machine 
| | | | | | | | |
| --- | --- | --- | --- | --- | --- | --- | --- |
| Model | Screw Diameter D(mm) | L/D | Screw Rotation N(r/min) | Main Power P(kw)  | Torque T(N.m)  | Torque Rating T/N3  |  Output Q(kg/h) |
| TSE-75A |  71 |  32-56 | 400 |  90 | 1074 |  4.9 |  250-350 |
| TSE-75A |  71 |  32-56 |  500 |  110 | 1050 |  4.8 |  300-420 |
| TSE-75B | 71 | 32-64 | 600 | 132 | 1050 | 4.8 | 350-550 |
| TSE-75C | 62.4 | 32-64 | 600 | 160 | 1273 | 5.8 | 400-600 |
| TSE-75D | 71 | 32-64 | 600 | 200-250 | 1990 | 9.2 | 500-1000 |
2. Application of granulating machine 
a. For high filling masterbatch : PE/PP/EVA ,+ Caco3, Tio2, Talc,Carbon Black , wood powder (wood pellet )etc; 
b. For fiber reinforcement: PP/PA/PBT/ABS/AS/PC/POM/PPS/PET +glass fiber, carbon black ;
c. For color masterbatch: PE/ABS/PS/EVA/PET/PP +Pigment, addictives; 
Color masterbatch: ABS + 30% Pigments+ Caco3 + Addictives;
Including mixer for mixing ABS+ pigments + Addictives; Screw loader for loading materials; Extruder for extrusion ; Water strand pelletizing line for cooling and cutting;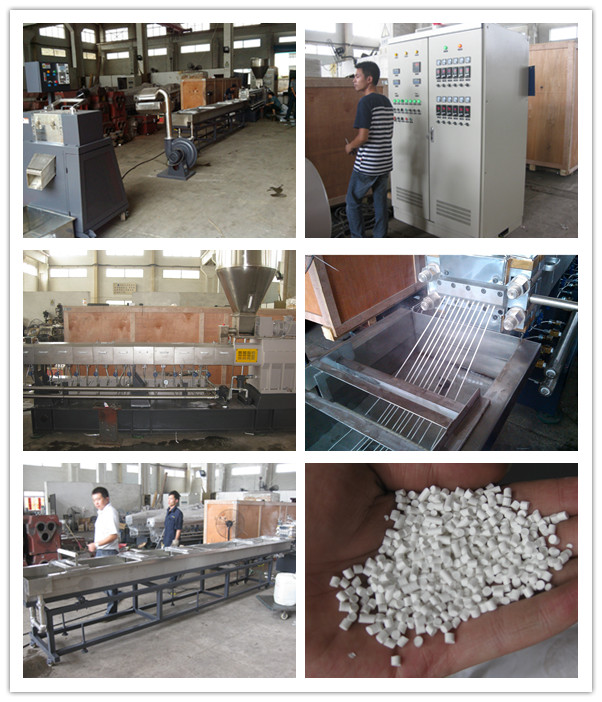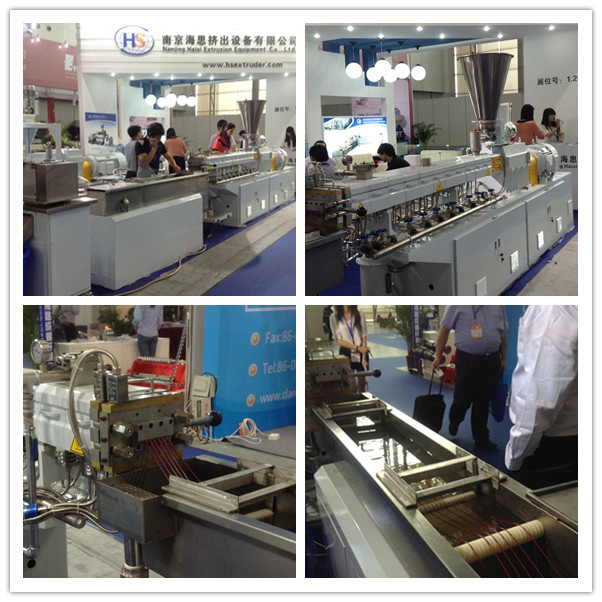 Filler masterbatch: PE + 85% Caco3/ PP/PE/PVC+ wood power; 
Including High speed mixer for mixing PE+85% Caco3+ addictives; Screw loader for loading materials ; Extruder for extrusion;  Air cooling pelletizing line for cooling and cutting ;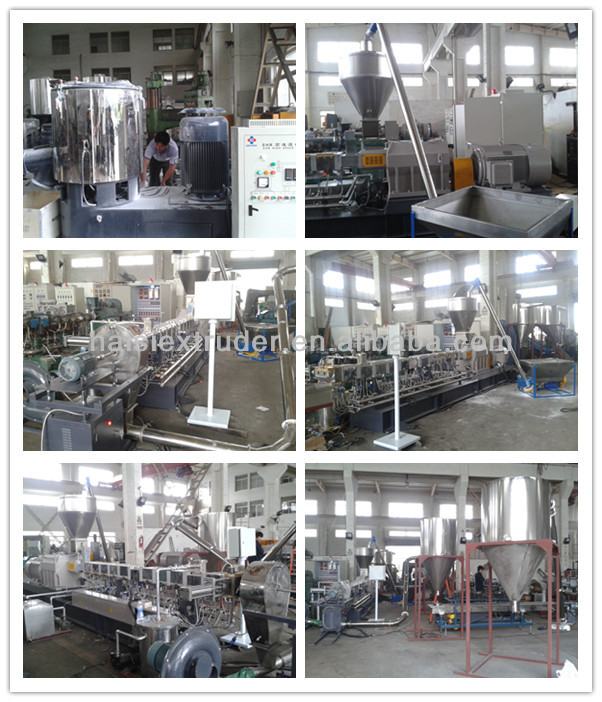 PP +70% Caco3 ; 
High speed mixer for mixing PE+ Caco3+ Addictives; Screw loader for loading materials , Extruder for extrusion; Water ring pelletizing line for cooling and pelletizing ;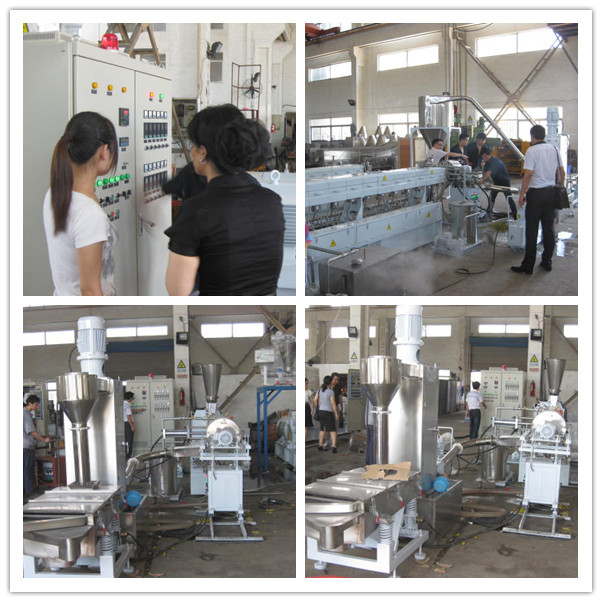 Color masterbatch: PE/PP/EVA/ABS+ pigment ;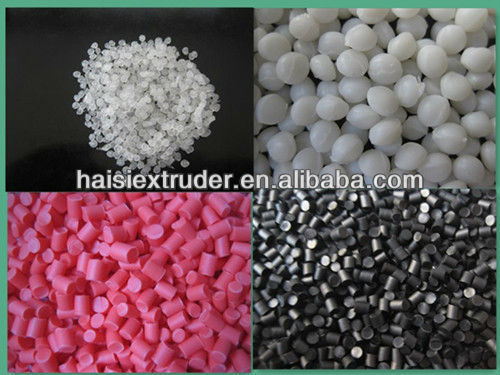 3. Specification 
a. Flexible modular screw barrel sections : high quality nitrided steel, corrosion proof or antifriction with corresponding process ; Cooled by water , by means of an internal bore system , with bores arranged close to the inside barrel wall: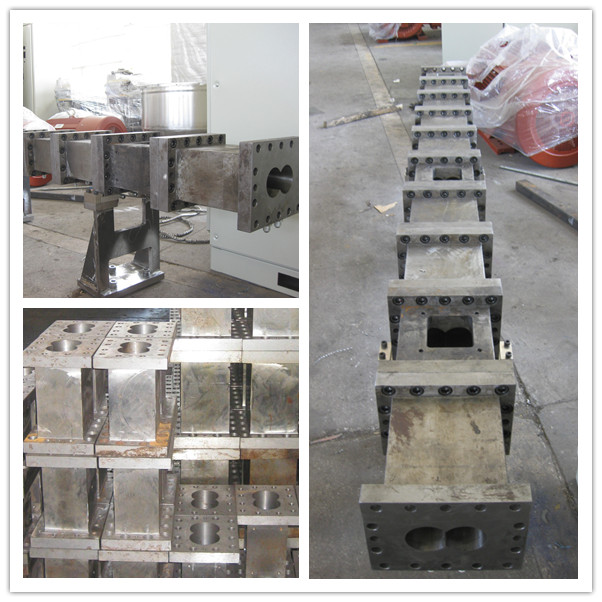 b. Screws are designed as modular systems. The screw elements are slid onto the shaft in the desired configuration. The unique splined screw shaft design-maxx shaft -realizes a higher torque transmission than in standard extruders. Generally , there are conveying, kneading , mixing elements. Hundreds of different screw elements can be combined.W6Mo5Cr4V2 or 38 CrMoALA.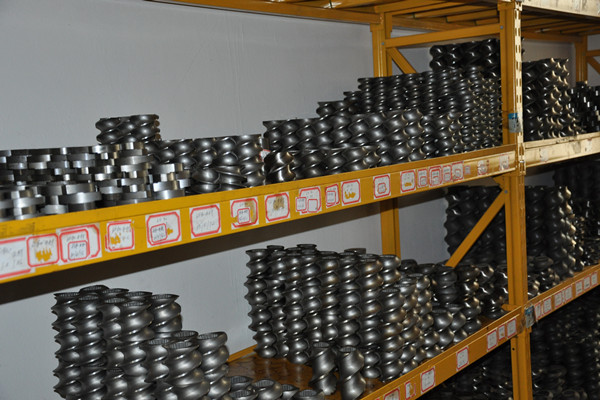 c. Metering feeders are equipped with single screw, twin screw , hollow screw, forced-feeding, side-feeding, system etc. to meet different requirements of feeding ,such as powder, pellet, lump and liquid mateials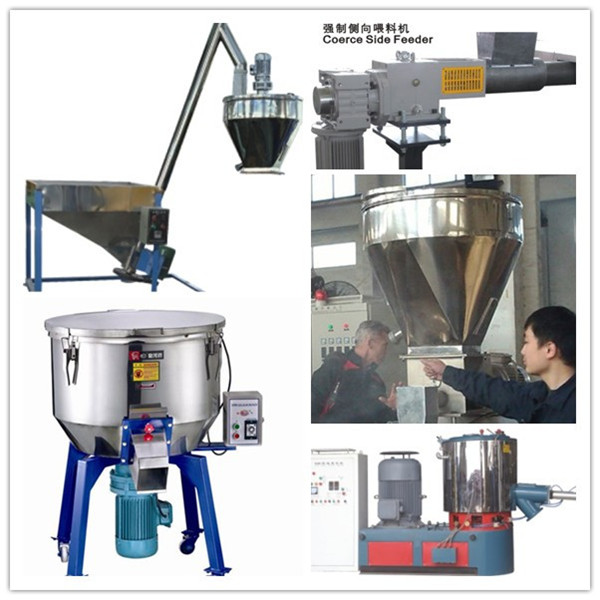 D.High toruque Gearbox: new stype project of parallel three axises driving makes the convey axis,  selected materials of drive components is dainty. Including super intention alloy cementiteing steel, cementiting and grinding. technics, strengthening of tooth face.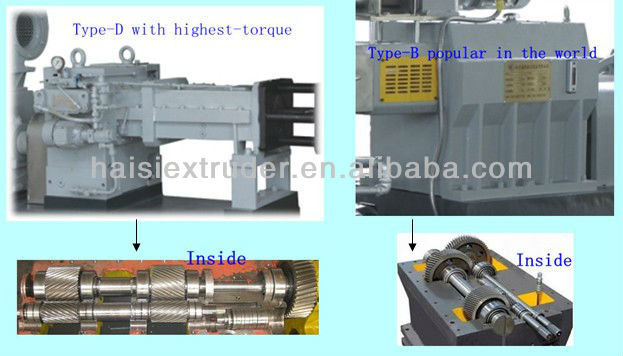 E. Various pelletizing line for different kinds of masterbatch and compounds;
Water strand pelletizing line for various filling masterbatch ,fiber reinforcement masterbatch ,etc 
 Air cooling pelletizing line for PE+ Caco3/ Pigment ,etc 
Water ring pelletizing line for PP+70-85% Caco3/Talc/Tio2,etc.
Under water pelletizing line for TPU, etc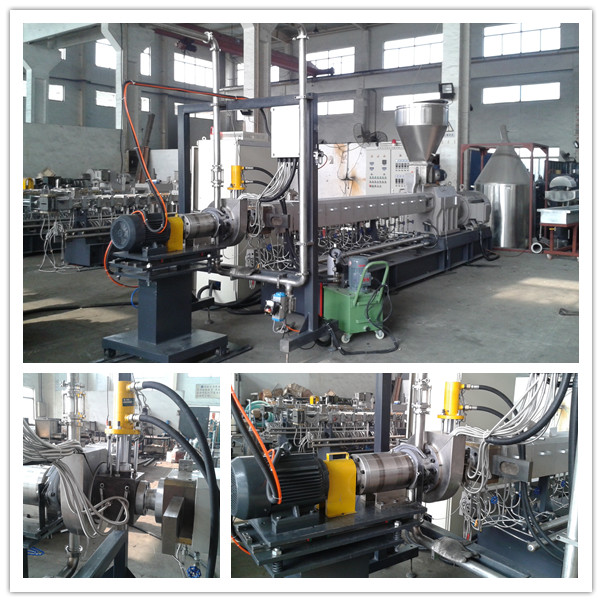 F.  Electrical control system
-Adopting imported PLC (OMRON or SIMES) to achieve optimized process control. Stronger function, steady performance and much higher accuracy.
-It can be also accomplished full-set link-lock protection,trouble safeguard, fault alarm cluing and so on.
-Operation interface on touching screen is visual an marked, which is brief and easy to use.
4. Our manufacture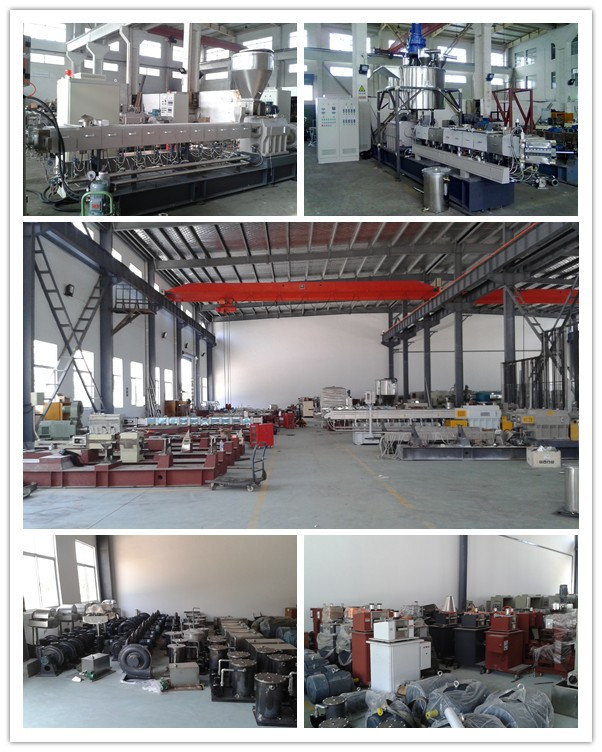 5. our storeroom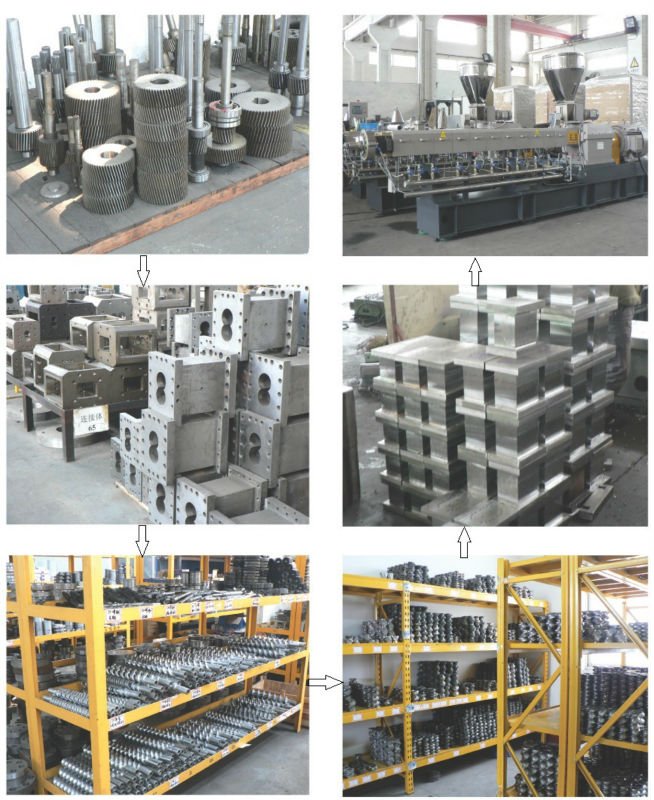 6. Our certificate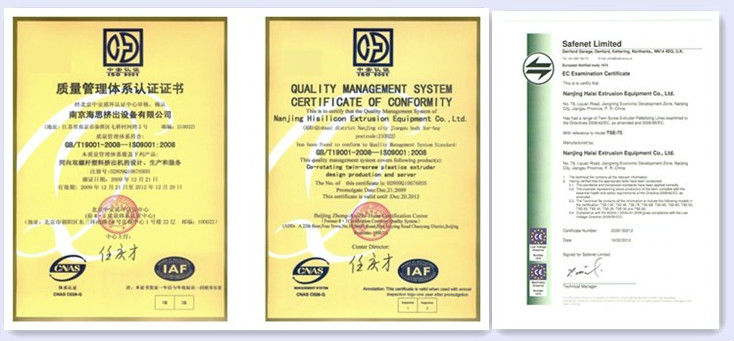 7.Other representative materials
filling and modification:PE,PP,EVA+caco3;ABS,PC,PS+aluminum hydroxide,magnesium hydroxide,antimony oxide

general and fibre color masterbatch:PE,PP,ABS,AS,PA,EVA,PET+pigment and auxiliary;PE,EVA,ABS+carbon black machine pellets.

blending modification(rubber&plastic blending ,plastic alloy) PE,PP,PS+SBS;PA+EPDM;PP+NBR;PP+PE,etc.

functional masterbatch:PE,PP,PS+starch: de-composing machine pellets.

glass fibre or carbon reinforcement:PP,PBT,ABS,AS,PA,PC,POM,PPS,PET+long fires,small fibres,carbon fibres,crystals and so on,etc.

various cable material :HDPE,LDPE,LLDPE,MDPE,EVA,PVC,PP etc.

handling after dewatering:polystyrene oxide,high-absorbing resin,chlorine sulphur polyethylene,etc

powder coating and special material : polyester,ring oxide,lactide,polyurethane,acrylate,etc.
8. Other extruder parameter
Mode
Screw Diameter D(mm)
L/D
Screw Rotation N( r/min)
Main Power P(kw)
Main Torque T(N.m)
T/N3
Output Q(kg/h)
TSE-20
22
32-44
600
5.5
43
7.5
0.5-10
TSE-30A
31
32-48
500
11
105
5.9
5-30
TSE-30B
31
32-48
600
15
119
6.7
5-40
TSE-35A/B
35.6
32-52
600
15-22
119
4.4
20-60
TSE-40A
41
32-64
400
22
263
6.4
65-110
TSE-40B
41
32-52
600
30
239
5.8
90-150
TSE-50A/B
50.5
32-52
500
45-55
430
5.4
135-270
TSE-65A
62.4
32-52
400
75
895
6.3
180-250
500
75
716
5.1
180-270
TSE-65B
62.4
32-64
600
90
716
5.1
200-300
TSE-65C
62.4
32-64
600
110
875
6.2
220-350
TSE-75A
71
32-56
400
90
1074
4.9
250-350
500
110
1050
4.8
300-420
TSE-75B
71
32-64
600
132
1050
4.8
350-550
TSE-75C
62.4
32-64
600
160
1273
5.8
400-600
TSE-75D
71
32-64
600
200-250
1990
9.2
500-1000
Any questions, please contact me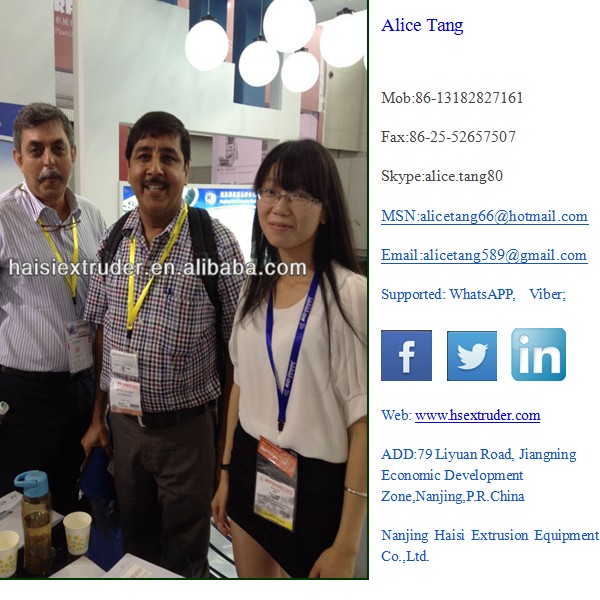 Grupos de Producto : extrusora de doble husillo co-rotativo > Máquina de extrusión LED